by Barbara Clark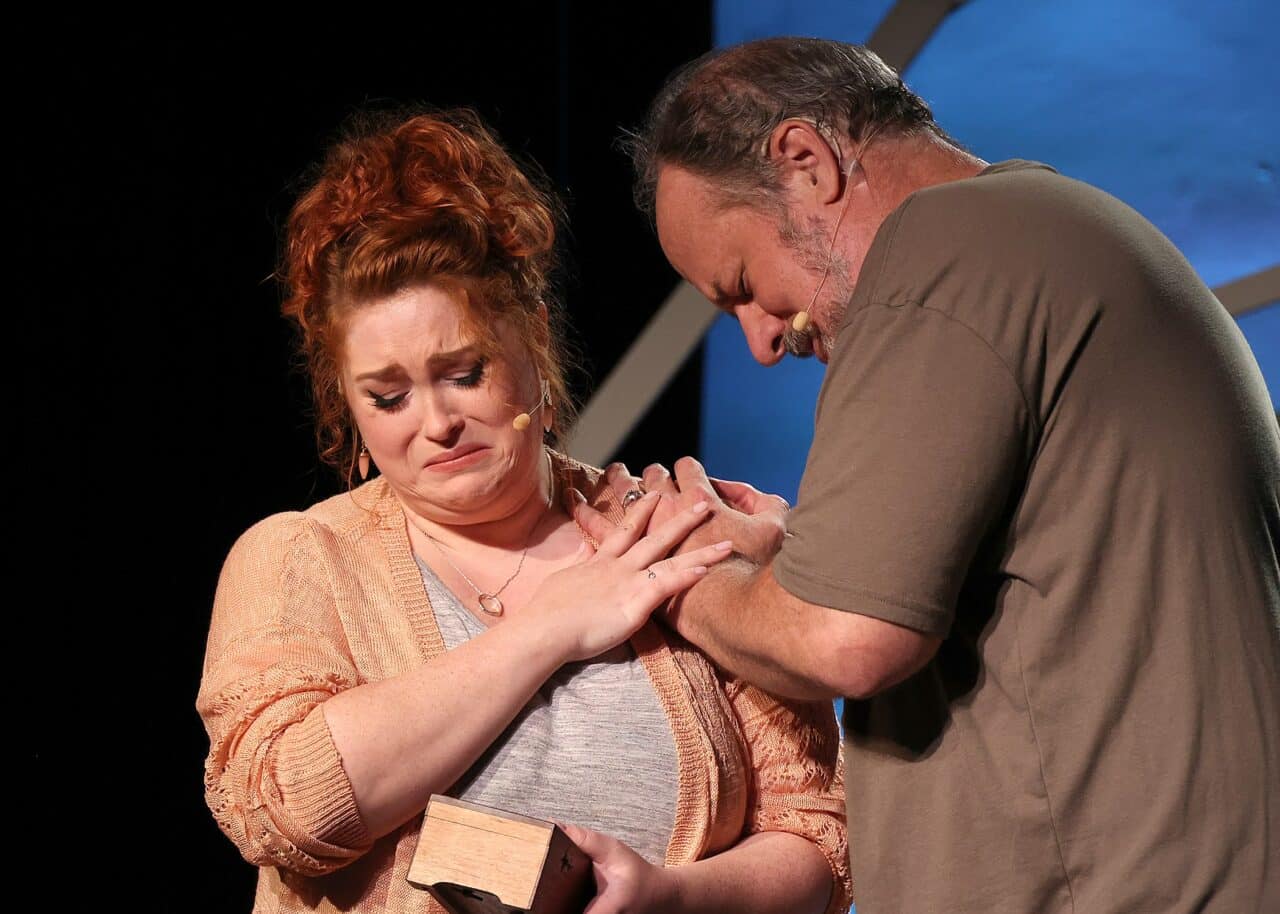 Jodi Edwards & Peter Cook – photo credit Focalpoint Studios
Eventide Theatre Company in Dennis is no stranger to staging fine, often edgy theater, and the company has burnished its reputation for fine drama by opening the fall season with "next to normal," an emotive, unique Broadway rock musical that scored three Tony Awards and the 2008 Pulitzer Prize for Drama. Director Steve Ross, who brought Aaron Sorkin's adaptation of "To Kill a Mockingbird" to Cape audiences in 2019, has once again brought a powerful theater experience to the Gertrude Lawrence Stage.
Using the show's dynamic pop-rock score, "next to normal" (lowercased only for Eventide's production) plays to a gamut of emotions, addressing the contemporary and urgent issue of mental illness as a suburban mom struggles with bipolar disorder and its ripple effects throughout her family.
In bestowing its award, the Pulitzer Board called it a show that dramatically "expands the scope of subject matter for musicals." And how.
Name of show: "next to normal"
Written by: Book and lyrics by Brian Yorkey, music by Tom Kitt, directed by Steve Ross, musical direction by Pam Wannie, performed by Eventide Theatre Company.
What it's about: Growing helplessness and frustration are captured in this drama of one family trying to come to terms with mom Diana's increasing disorientation and depression, which has deepened even after her psychiatrist has numbed her with multiple treatments and drug "therapy." Hallucinatory encounters with her son, Gabe, who died years ago in childhood, give his memory a tight hold on her, as the play explores family interactions, especially with husband Dan, who denies his own grief in order to preserve a pretense of stability.
The play delves into issues that resonate: what are we willing to sacrifice, in order to maintain a semblance of "normality" and return things to "the way they were before" … and what was that way, anyway? The characters explore just what they may need to surrender in order to move forward with their lives from old ways of reacting.
See it or not: Think this is no material for a musical? Astoundingly, it all works. And it would be hard to find a better combination of talent and voices to perform this gritty, vibrant score. The talented cast of Jodi Edwards (Diana), Peter Cook (Dan), Wil Moser (Gabe), Merritt Willcox (Natalie), Mickey Olson (Henry) and Beau Jackett (Drs. Fine/Madden) all perform superb, raise-the-roof vocals, and yet each voice blends with the rest in ensemble numbers, each empowering the others. As Diana, Edwards bears the brunt of much of the action, and her voice is both soaring and sublime.
Highlights: There are spoken lines, but much of the drama is sung, and the rock score is original, intense and moving, enhanced by choreography and staging. The pit musicians, led by Pam Wannie, take center stage here, as piano, cello, drums, guitar, bass and violin perform in silhouette on stage throughout. Besides its drama, the play has great scenes of humor: Dr. Madden's hidden rock star persona emerges as he meets his patient. And there's a neat twist to an old musical chestnut when the ensemble shares that "these are a few of my favorite pills." On the tearjerker side, one of the show's most moving moments is an Act II duet where Diana and Natalie finally connect for the first time as mother and daughter.
Interesting mini-facts: Edwards and Cook are real-life partners. … Merritt, a senior at Falmouth High School, has an amazing voice and presence. … And once, long ago (nearly a decade), we saw youngster Wil Moser emerge from Ugly Duckling status in "Honk!" at Eventide Theater. Did he ever.
Worth noting: It's one of the best things about live theater ― each show is unique, and special, performed for each member of the audience to take in and process. "next to normal" gives each watcher a chance to weave through its events and come to their own conclusions about how this family can move on with their lives.