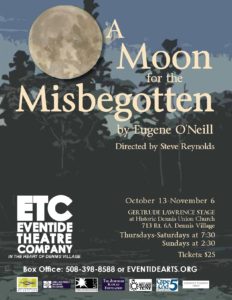 Coming October 13 – November 6th!
Directed by Steve Reynolds.
Following the events of O'Neill's classic Long Day's Journey into Night, A Moon for the Misbegotten brings James "Jamie" Tyrone, Jr., to the home of his tenant farmer and frequent drinking partner, Mike Hogan. There he encounters, after many years, Hogan's daughter, Josie, a woman as tough as her father. During one moonlit night, Josie and Tyrone reveal their true selves to each other. When dawn comes, the moon is gone and so are all their burdens, leaving Josie with a new challenge to her dauntless spirit.