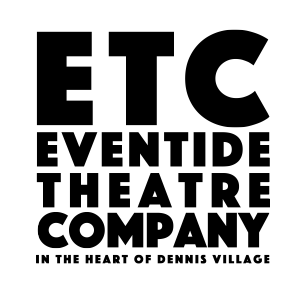 Eventide Theatre Company is a 501(c)3 independent organization that presents plays, concerts, lectures, and mixed media events to promote the understanding of social diversity, music, dance, and the art of playwriting and songwriting.
The Gertrude Lawrence Stage, Eventide's home, was built and named in 1954 in memory of famed stage actress Gertrude Lawrence. Lawrence, wife to Richard Aldrich, a producer/director of the Dennis Playhouse, lived in Dennis when not performing and was active around town and at the DUC.
Eventide Theatre Company has sponsored issue-oriented cultural events and performances by local artists since former Dennis Union Church (DUC) music director, Noel Tipton, founded the group in 1998. His goal was to bring concerts, plays and arts-related lectures to Dennis using the performance space, the Gertrude Lawrence Stage, at the DUC fellowship hall.
Eventide Theatre Company has since become separate in all respects from the church as an incorporated non-profit artistic company. The Company maintains a close relationship with and is indebted to the DUC for allowing it to rent the space.
Eventide Theatre Company has, over the years, upgraded the stage curtains, the lighting and sound systems and recently teamed up with the DUC to purchase comfortable upholstered armchairs for the Fellowship Hall/Gertrude Lawrence Stage performances.
We bring people together in creative experiences.
10,000+ enjoy the entertaining and unique programs that Eventide Theatre Company brings to the community.
We multiply your dollars.
For over 18 years, we've been a financially sound non-profit organization with successful programs. We'll continue to leverage your dollars by seeking matching funds from corporate and foundation grants.
50% of our income comes from individuals like you. 80 cents of every dollar go directly to fund creative theatre experiences for our children, our families, our neighbors and friends.
Set your own level of support. Thank You!

Our Mission
"We provide an encouraging, supportive environment for actors, songwriters and playwrights leading to excellent, creative, and thought-provoking performances that stimulate and educate Cape audiences of all ages."
Officers:
John Williams – President
Kay DeFord – Vice-President
Toby Wilson – Artistic Director
Susan Martin – Treasurer
Susan Schofield – Asst. Treasurer
Board of Directors:
Judy Chesley
Emir Sehic
Bob Shire
Steve Ross
Cindy Harrington
Dee Carr
Sally Bickford
Paul Laemmle
Sally Stratman
Kathy Delehaunty